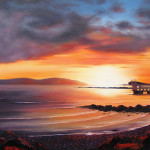 Patricia Kavanagh – our latest Featured Artist
Our latest featured artist Patricia Kavanagh is based in Galway. She's a realist painter working mainly in oils and specialises in the 'alla prima', or wet-on-wet technique, as favoured by many of the Impressionist painters. This gives her work a fresh and spontaneous feel, and a great depth of colour.
Patricia is the third artist to be featured on Marine Art Ireland's website and on our Facebook Page. If you're on Facebook please like / share to help promote her work and the work of other marine artists.
More about Patricia 
Patricia's Gallery
22nd November 2013
October's second Featured Artist Michael McGuire
Michael McGuire is based in Wexford, but is originally from Co. Kerry as is evidenced by the wild Atlantic waves and rugged coves of his seascapes. His fondness for painting "en plein air" is clear from the vivid colours and bold brushstrokes of his painting.
More about Michael
Michael's Gallery
23rd October 2013
Roman Rocco Burgan – our first Featured Artist
Our first featured artist for October is Roman Rocco Burgan, who is a Slovakian painter based in Kenmare, Co, Kerry. Roman's work is notable for its striking sense of drama and colour, and captures the Irish sea, sky and landscape beautifully.
More about Roman
If you are interested in participating or just want more information please contact me.
See the section : About Marine Art Ireland for more details
If you're a Facebook user, please visit, like and share the Marine Art Ireland page as the site will use Facebook and other social media to promote the website and the artists. (See FACEBOOK Like box opposite for link).
Thanks
Paul Douglas
7th October 2013