Paul Douglas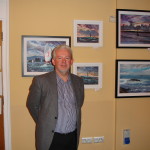 I've been painting the sea for about 25 years, and founded Marine Art Ireland in 2012 to promote awareness of, and interest in the craft of Marine art in Ireland.
As an island, Ireland is surrounded on all sides by ocean and sea, and this has had a profound influence on our character and on our history. On the one hand, in creating a sense of insularity from the outside world, and on the other, in providing the great sea roads which have carried Irish emigrants to all the corners of the earth.
Given this fact, it's surprising that more attention hasn't been paid to the craft of seascape painting in Ireland.
I've been influenced in my work by the American artists, E. John Robinson, and Byron Pickering, but also by Irish artists such as John Skelton and Paul Henry.
I exhibit regularly in sailing clubs and also in various group exhibitions.
Through Marine Art Ireland, I've discovered some very exciting Irish artists who share my passion for the sea. I'm now looking to link with venues on the Wild Atlantic Way to showcase some of this talent through a series of group exhibitions on the theme of the sea.
I'd welcome contact from interested galleries, venues or supporters.
Paul Douglas
Contact me