John Adams Artist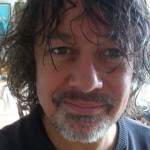 Dublin born and adopted son of Cork City, John Adams is a full time professional artist, and active campaigner for the arts.His painting style veers from representational in a realistic way, to expressionistic, brushstrokes slashing and moving with the flow of the composition, creating a sense of the waves or landscape coming alive. It is within the imagination, and subconscious mind where some of the strongest paintings come from.
In 2010 John studied landscape painting, and painting the figure at the Florence Academy of Art, skills are something he believes are the rock that all good art is built.
A few of John's exhibitions in Cork City.
"Stop Making Sense" in The Cork School of Music 2014
'Paintings of Musicians" in the Cork School of Music" 2013
"Cork City Paintings" exhibition in the Cork Vision Centre in 2010.
Johns paintings are in many prominent collections such as the Crawford Municipal Gallery, Cork
City Council, The Royal college of Surgeons, Cork City Library, President Michael D Higgins and
many more private and public collections.
www.fineartimagesofireland.com
John Adams 00353 (0) 877804866
John's Gallery