Brenda O'Connor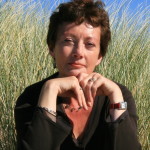 A native of Dublin, Brenda has been painting for over 30 years and has participated successfully in many exhibitions during this time, including the Goodbody's Charity Art Exhibition in Ballsbridge last year. She has exhibited also in the Whitethorn Gallery in Clifden, where she has sold several pieces. She exhibits weekly on Merrion Square and participates in the St. Stevens Green Art shows throughout the year showing her work directly to the public.
Brenda will be exhibiting at the RDS Art Source Show in November.
In her work, she uses acrylic paint and sometimes other mediums to create pieces which illustrate her emotional attachment to and respect of her subject. The constant changing and huge variations in colour of the waters around our island have a continuing fascination for Brenda. She feels it is her challenge to be innovative and creative in illustrating the need to preserve and protect our native coastline for future generations.
Brenda's Gallery