Link to Patricia's Guest Gallery
Link to Patricia's blog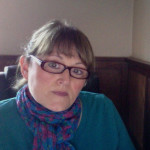 Patricia Kavanagh  was born and raised in Salthill, on the shores of Galway Bay. she began painting and drawing at an early age, inspired by the beauty of her natural surroundings in the West of Ireland. She is a realist painter working primarily in oils. Light, shadow and mood are important in her work and she often paints outdoors to capture the true colour and feel of a place or the soft diffused light of an early morning view. Much of her work displays dramatic stormy skies, rough seas, rocks, seaweed or a bright sunburst through dark and thundery clouds. Patricia has always lived near the sea and grew up with the sound of waves crashing onto the shores at Blackrock. Her desire to paint seascapes was nurtured in childhood by family day-trips along the Connemara coast and regular visits to the Aran Islands. More recently she also explores the rugged coastline of Co. Clare and the Burren as a subject for her work.
For many years Patricia developed her career as a self-taught artist studying the skills and expertise of the Old Masters. Her appetite for learning led her to the Netherlands to study the 'alla prima'  technique of oil painting. This greatly enhanced her style adding a freshness and spontaneous feel to it. The technique was pioneered by the Flemish painter Frans Hals, but owes its popularity to the artists of the Impressionist movement. She continued to study art and was recently awarded a B.A in Art and Design at GMIT Galway.
As an established artist, Patricia now works full-time in her studio based at her home. She regularly accepts commissions and her paintings have been acquired by clients worldwide.