Olivia O'Carra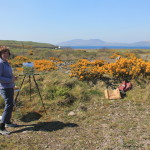 Since taking early retirement from a teaching career over a decade ago I have been fortunate enough to fulfil a childhood ambition to spend my days painting the wonderful scenery which surrounds me.
Mainly self taught I benefited greatly from a course on Oil Painting given by artist Mark Eldred and have attended numerous painting Workshops.
I paint both land and seascapes and have no shortage of inspiration here in Kerry living as I do right beside Killarney National Park with the sea only 30 minutes away.
My paintings usually begin as small pieces worked Plein air which together with photos taken on site are used as the basis for my larger studio paintings. My style is Realistic/ Impressionistic and the Paintings are worked in layers using both brushes and palette knives.
My first solo exhibition in 2007 was in the Frank Lewis Gallery here in Killarney and it was a sell-out. I have since had numerous solo and group exhibitions.
To see more examples of my work visit www.oliviaocarra.com
Olivia's Gallery