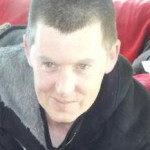 Mike Flannery Profile
 Growing up in Galway city with the sea on my door-step, it's no wonder the sea  was to play an intrinsic part in my upbringing. As my father has always been a keen sea angler, I accompanied him on his outings. From the age of six onwards, every weekend  was spent fishing along the west coast from Cork to Donegal.This instilled an unparalleled appreciation of my surroundings and the beauty of the Irish coastline.
As a visual learner, needless to say, I fell through the cracks of the education system. If I'm honest, I was too busy daydreaming of my next coastal foray. Although I had many diverse interests and a need to be creatively occupied, the only thing I actually enjoyed was art class. This was to lead on to the pursuit of a career doing commission pieces and portraits. Although it was a great learning process, I had reached a point where I realized that I was painting someone else's vision, someone else's dream, and embarked on painting the places that inspired me.
Fuelled by the comforting lie, that "if you can paint portraits you can paint anything", I thought it was going to be an easy task.  But boy was I wrong!  It proved to be the most difficult of subjects. To capture the essence of the wild Atlantic with its movement and changing light took some time and required more skill and knowledge then I had realized. The study of oceanography, geology, cloud formation, atmospheric weather conditions, light and the use of transparent pigments all came into play; and still to this day each painting is in itself  an experiment and a challenge.  Whether its attempting to seamlessly blend a sky from blue into yellow, without physically or optically mixing green or changing linear perspective on a large canvas to be viewed form left to right instead of head on, this keeps me creatively occupied.
Perhaps they should change the saying to "if you can paint the sea, you can paint anything ".
Mike Flannery April 2014