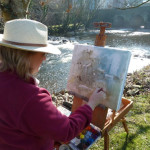 Annemarie Bourke is the MAI Featured Artist for March. Annemarie has a Gallery and Studio in O'Connell St., Limerick and regularly runs workshops for artists. She is a member of the Jury Panel of the International Watercolour Society, and is highly respected as an artist and a tutor. She paints in a wide range of media and styles, and the sea features strongly in her work. Her work is recognizable for its clarity in capturing light and for its fine use of colour balance.
We'll be featuring Annemarie's work on the Marine Art Ireland FACEBOOK page over the next few weeks. If you're a Facebook user please LIKE / SHARE to help promote her.
More about Annemarie

Annemarie's Gallery
Links to Annemarie's own webpage are available on her Featured Artist page and on her Guest Gallery

Artists are welcome to join our Marine Artists group on Facebook.
Paul Douglas
3rd March 2014
Previous Featured Artists:
January 2014: Gillian Murphy
December 2013: Patricia Kavanagh
November 2013: Michael McGuire
October 2013: Roman Rocco Burgan
All images and content on this website are protected under Irish and International Copyright law. All of the images on this site are for on-screen viewing only and may not be copied, downloaded, reproduced, printed, manipulated or used in any way without prior written permission.